World Record Wheelchair Wheelie  <----- link to article
Above is the link to the article. I thought this was an amazing feet that takes years of dedication and training.
 Tuesday, August 18, 2009
  
  Longest wheelie in a wheelchair-world record set by Michael Miller
 
 Hortonville High School, WI, USA -- Michael Miller, 19, of Ellington, took 40 laps around the quarter-mile, track logging 10.016 miles and setting the new world record for the Longest wheelie in a wheelchair.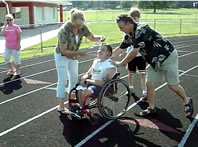 "It was amazing," said the soft-spoken man who's already thinking about ways to break the record.

   The former world record for the Longest wheelie in a wheelchair was 8.097 miles, set by Paul Stares of England in 2005.

   Despite his disability, Michael popped his first wheelie at age 4 after receiving his first wheelchair. And he never stopped.

   "He'd get in so much trouble in school because he'd spend more time on wheelies, and the teachers would just run behind him because they thought he was going to tip over," his mother Karri Miller said.

    Michael was about 10 when he began thinking of how he might get into the Guinness records, but over the years, multiple surgeries kept him from his goal.

    A favorite uncle's death in May 2008 spurred him to make his dream of executing the longest wheelie in a wheelchair come true. Michael joined the YMCA and trained for hours on the hilly roads near his home.

  "Every time he did a lap everyone got up and cheered and pushed him on," Karri Miller said. "He wouldn't take any water. He was so afraid he would get distracted and he had to focus." Three miles into the feat the sun came out and the resulting humidity caused steam to rise from the track. Although Michael struggled, he never lost his composure, Holso said.

   The attempt took 3 hours and 55 minutes to complete.

   "He does more on two wheels than most people can do on four," his proud mother said.